95% OF THE SUPPLIERS IN THIS INDUSTRY SUPPLY KNOCK OFFS
Quality in this industry over the past few years has deteriorated due to cost cutting measures implemented by most manufacturers in the market place to-date.
Maybe other vendors who become complacent after dealing with you a few months, M&M Tech is constantly on the honeymoon phase with all clients as we recognize it just takes one botched project to tarnish a relationship. We look after every order and every client exactly the same way for years to come.
Check how can we guarantee the very good quality during production, we can not guarantee we are lowest price in the market, but we can 100% make sure that our video brochure quality is best.
After video brochure artwork finished, the first step is to print the paper, and cut it individually, normally if you order 500pcs, we will print 10% extra in case of some defective printing. Each paper will be checked by manual. 100% gurantee it is nice printing.
Stick double-sided tape to corresponding position on the video brochure paperboard.
Using low quality self-adhesive tape loses its adhesiveness in a couple of months (especially during extreme heat, cold and humid weather) resulting in pockets (gaps) appearing around the LCD screen and other areas of the card. At M&M Tech we only use the highest adhesive tapes like 3M brand.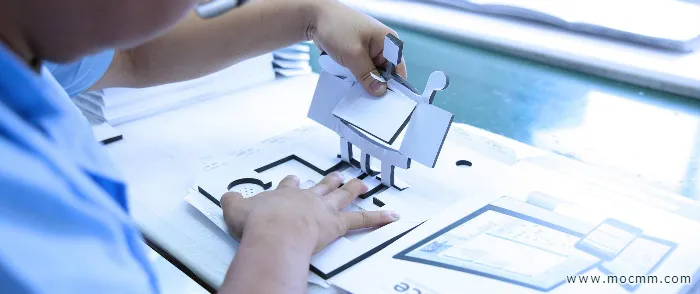 Stick the EVA on the appropriate location and clean up the excessive EVA. M&M tech only use 35 kg EVA foam to fix the components well.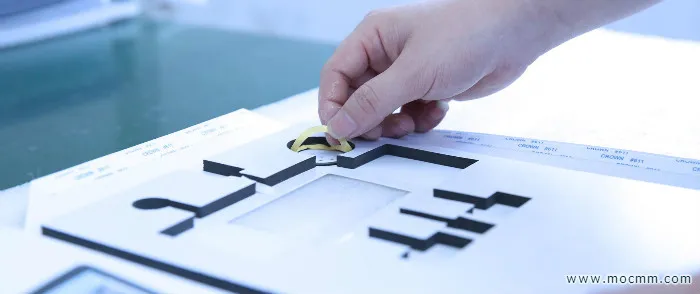 Remove EVA stickers from all parts. it is second time EVA checking if it any defective wrong cutting, also if the 3M adhesives are in correct position.
Fix PCBA, battery, horn and glue.
Stick on the sponge pad with corresponding keys, and keep the EVA flat.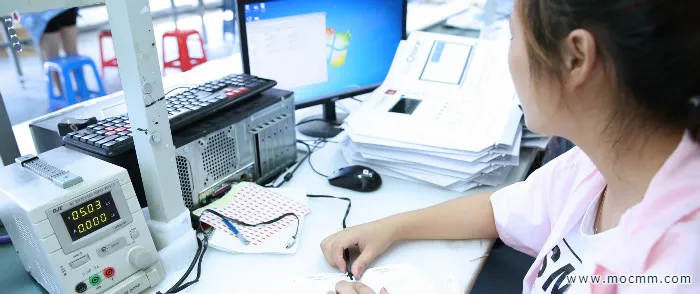 Connect each video brochure with  computer, testing semi-finished product and charging. 
According to the corresponding position, paste the back of the gray paperboard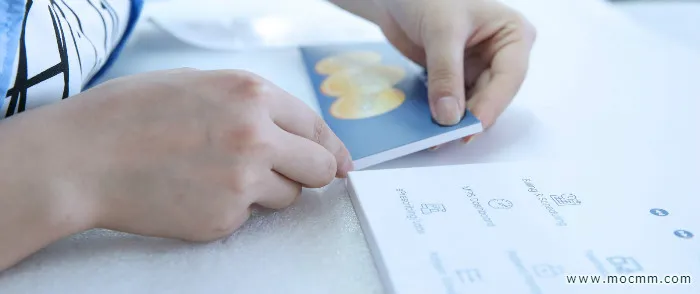 Stick each part of the video brochure and keep it flat..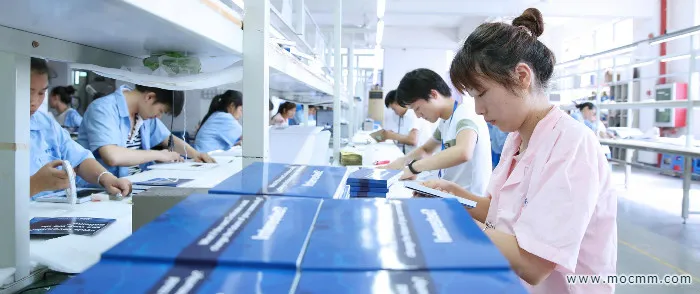 Check and clean LCD video brochure, also it is checked by manual, once our worker finish surface checking, will pack by single pearl cotton bag. 
Quality control department, insert customers' video and test finished product.  we will check if it can be charged, the surface is clean no scratched, if buttons are correct, more quality control details pls find it as below.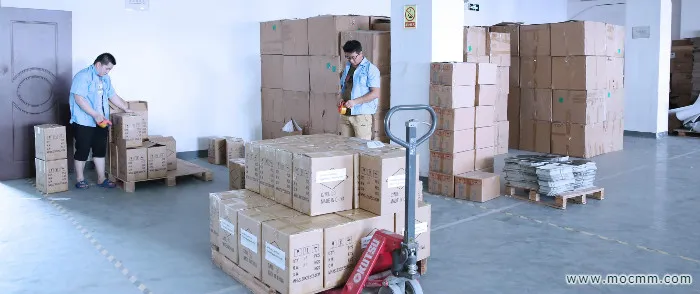 The finish product encasement shipping. We use 4 layers corrugated carton box, each carton box is tied up by 2 plastic rope to fix it well. so you dont worry the carton will be destroied during shipping.
QUALITY OF ELECTRONICS
To us, our clients are not just that one client who buys few hundred or few thousand units. We stake our reputation on every single unit, because the end user will only receive one piece and will judge your company based on receiving just one faulty unit. We go through triple checks in our quality process to avoid anything slip through the cracks .
GOING THE EXTRA MILE
– often suppliers will not tell you if the sound is too loud or if the video has a problem with the quality, resolution, brightness etc. They will use the video that clients provide as it is and ship the merchandise. .
When dealing with M&M Tech, the full force of our expertise accompanies every one of your orders, which includes, video production and graphic design studio to assist you every step of the way and double check your graphic design and video files, so that the final product, graphic image, sound, video and presentation is optimized for your campaign and message.
All this ensures that your final product will not have a video sound that is not cracking or too loud / too soft, your video quality (contrast, brightness and color sharpness) is optimized for our products.
DARK SCREENS
– Resulting in this device not comfortably viewable in bright lit environments and therefore lacks the WOW effect! We often come across clients that have no idea about the option of a better quality product and are ALWAYS blown away when they see a M&M Tech product.
BATTERIES 
– Cheap blue colour Li-Ion batteries (instead of grade "A" silver Li-Ion Polymer batteries), resulting in a higher defective rate, quicker battery discharge and deterioration rate. Our Li-Ion Polymer batteries come fitted with an intelligent circuit to prevent accidents due to overcharging.
LOW END SELF-ADHESIVE TAPE IS USED
– Using low quality self-adhesive tape loses its adhesiveness in a couple of months (especially during extreme heat, cold and humid weather) resulting in pockets (gaps) appearing around the LCD screen and other areas of the card. At M&M Tech we only use the highest adhesive tapes like 3M brand.
DEFECTIVE MERCHANDISE
– When dealing with defective merchandise, in most cases we will quickly swap them (if it is a manufacturing defect), as we always make a few pieces more to handle such issues. Our track record of defective units has been less than 1% over the past 7 years, which is lower than industry standard of 5-10%
PRINTED CARD SCRATCHES
 – It is very easy to damage printed cards during assembly. Matte lamination is prone to scratch marks that are easily visible. Most suppliers will print maybe 5%extra quantity of printed cards over and above the order. At M&M Tech we print at least 20% extra cards, so as to keep the dents, scratches to a bare minimum, so that every single product that is shipped meets the highest standard.
Multinational companies have a certain standard they need to maintain in order to protect their brand name. M&M Tech in some cases provide the client a non-scuff lamination option which is better than the typically matte lamination.
These types of products are usually sent to VIP clients in order to WOW them! However if the cards have dents and scratches or glue marks, it causes a poor impression on supplier and looks bad in the eyes of the end customer.
If you have a dark color printed artwork, as part of our workflow we will inform our clients that dark background colors with a matt lamination are prone to scratches easily, we will always recommend using a non-scuff lamination.
DEAD PIXELS 
– this is always an issue with using cheap or 2nd hand LCD screens. Here are some examples of dead pixels on an LCD screen. It looks like spots on the screen. M&M Tech takes the screen quality to the next level with top quality brand new LCD screens, which allows us to avoid any problems with dead pixels and or dark dull screens. They stand out clearly when the video is playing, as in those areas the video is not visible.
POOR SOLDERING WORK
– sub-standard vendors often have issues with poor workmanship, many units are defective because 2 wires are touching each other, causing the buttons to not function properly. Below is an example of the problems that many suppliers have.
QUICKER SELF DISCHARGE RATE
– it takes some time before the video brochures arrive at the final destination and for it to be distributed to the end consumer. Poor quality designed circuits have a quicker self-discharge. Even when the video brochure is not being used it is draining the battery very quickly and in a few days or a couple of weeks the battery is fully discharged.
BATTERY DRAIN WHILE GOODS IN TRANSIT
– this is another common issue when dealing with unprofessional suppliers. When products are using a magnetic sensor IC, if the products are packaged improperly the magnet in 1 video brochure can activate the video of another video brochure next to it while the video brochures are closed and packed in export cartons. Due to this, the devices are playing continuously during transit and by the time the cargo arrives the final destination the battery is either empty or almost empty, creating a big problem for the client who now has to recharge every single unit before sending it to their clients.
VIDEO PLAYING UPSIDE DOWN
– believe it or not, we have heard stories from unhappy buyers that have had bad experiences with suppliers who ship them merchandise that are playing the video upside down.
POWER CONSUMPTION WHEN THE SOUND IS HIGH
– lower quality products often have a problem with the power consumption. When the audio is too loud, it causes the video to flicker when playing, as the device is consuming too much battery when the speaker is loud. This is mainly caused due to poorly designed circuit.